To the editors of Metro,
In Thursday's paper you write that Bloomberg will devote $708 billion to replacing dangerous light fixtures in 772 city schools. Do you have any idea what $708 billion is? The U.S. Department of Defense's 2011 budget is $721.3 billion. If there are 1,000 rooms in every one of the 772 schools, and each room has 100 light fixtures, $708 billion will leave nearly eight million dollars per light fixture. I'm not surprised that Metro's typists made a mistake. I'm surprised that the rest of Metro's staff was so innumerate as to not notice it.
Still a devoted reader,
e
__________________________
More on numeracy and large numbers: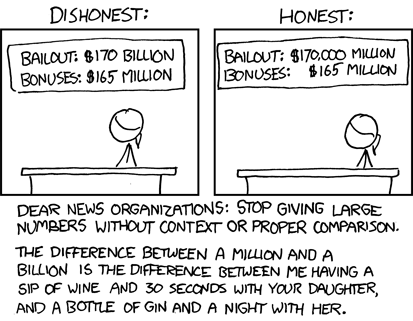 If you're ready for something gut-wrenching and also funny on numeracy and small numbers, go
here
and listen to the audio.